PTFE Glass Cloth Industrial-serie, met medium PTFE-coating voor kostenbesparende eigenschappen
PTFE-glasdoek combineert de uitstekende mechanische eigenschappen van geweven glasvezeldoek met de eigenschap van gemakkelijke afgifte van teflon (PTFE) (polytetrafluorethyleen). Het geweven patroon van glasvezelweefsel zorgt voor de treksterkte en scheursterkte, terwijl de PTFE-coating de niet-klevende (easy release), chemische en UV- & hittebestendige eigenschappen garandeert.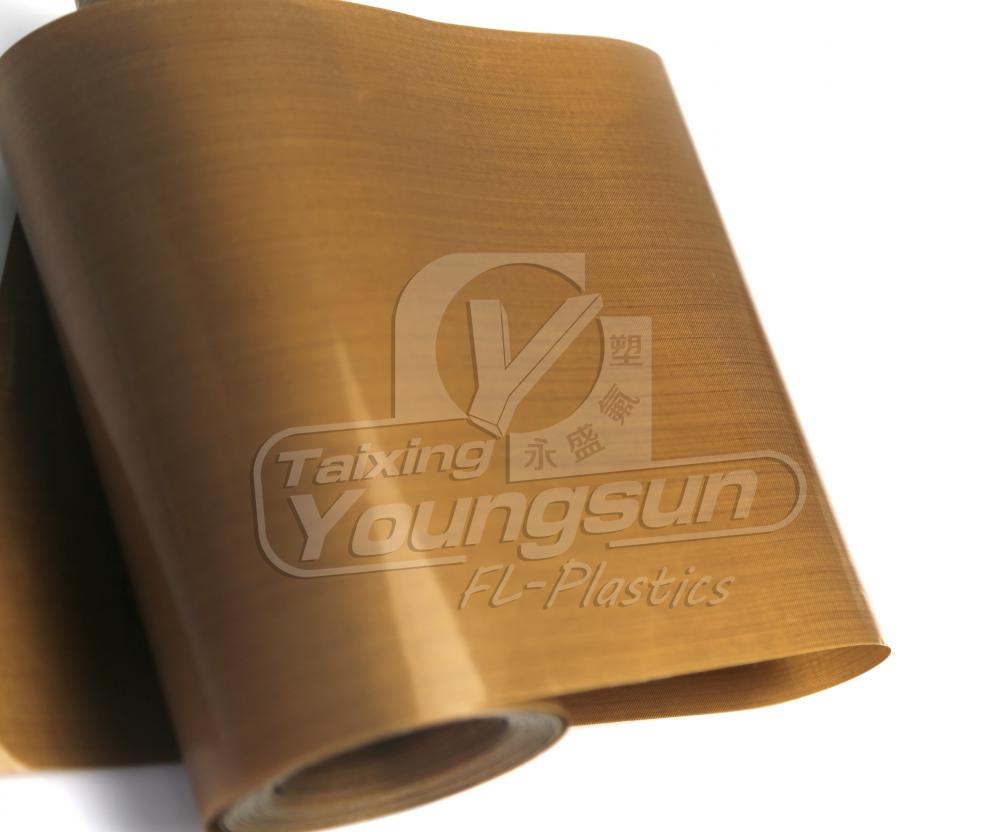 Teflon gecoate Fiberglass Fabric Industrial-serie
Industrieel Serie PTFE glasvezeldoek is ook gemaakt van E-glasvezel, maar is gecoat met gemiddeld PTFE-gehalte. Deze seriestof biedt een goede release-eigenschap en een kosteneffectieve prijs.
De populaire specificatie van industriële PTFE-stof is YS9011AJ, de dikte is 0,11 mm en het gewicht is 220 g / m2.
YS9011AJ kan nog een keer worden gecoat, wat resulteert in YS9013AJ Premium-serie (met hoog PTFE-gehalte).
Eigendom van PTFE-glasweefsels
★ Niet-klevend oppervlak, goede release-eigenschap.
★ Kan continu werken van -170 ° C tot + 260 ° C
★ Niet-toxisch en compliant voor voedseltoepassingen, gecertificeerd door FDA en LFGB
★ Chemische weerstand
★ Dimensionale stabiliteit
★ Goede diëlektrische sterkte
★ Weerstand tegen microgolven, UV-stralen en IR's en HF.
Toepassingen van PTFE-doek Industriële reeks YS9011AJ
YS9011AJ verkoopt veel in smeltlassen, warmte-isolatie, scheidingsvel voor hittepersmachines, niet-klevende bladen voor lamineren, geweven of niet-geweven textiellaminering, verwijderingsweefsel of tape voor het vervaardigen van kunststofzakken en zakken, niet-klevende bakplaat of bak voeringen etc.
Het kan in elke gewenste breedte en lengte worden gesneden, afhankelijk van de behoeften van de apparatuur. De normale kleur is lichtbruin of donkerbruin en kan worden gecoat met siliconen PSA of acrylkleefstof op de achterkant.
Klik hier voor toegang tot meer soorten
toepassingen
van PTFE glasweefsel.
Technisch datablad van YS9011AJ
Klik hier om de TDS van YS9011AJ-ESONE te downloaden
Klik hier voor meer informatie over PTFE gecoate glasweefsels
Neem voor monster van PTFE glasweefsel contact met ons op. Andere breedte is ook beschikbaar, u kunt contact met ons opnemen voor meer informatie.
Product Categorie : PTFE Coated Glass Fabric > PTFE Coated Fiberglass Fabric Industrial