Teflon gecoat doek, bekleed met PTFE (teflon) (polytetrafluorethyleen) en met behulp fijn geweven glasvezel als basismateriaal. Het wordt gebruikt als loslaat of transportband voor diverse houtlaminering of ander proces.
Vanwege de niet-aanbaklaag en hittebestendige eigenschap, is Teflon gecoat doek als transportbanden voor het kleefmiddel, panelen of hars drogen en uitharden. In dit geval heeft houtverwerking en -laminering een hoog verzoek om de gemakkelijke afgifte, hittebestendig, chemisch bestendig en hoge treksterkte. En de Teflon-gecoate stof van ESONE is de beste oplossing om aan deze verzoeken te voldoen.
Teflon gecoate stof wordt ook gebruikt voor rubber harden in ovens, weglopen matten produceren, luxe vinyltegel productie, PVC rug tapijt, enzovoort.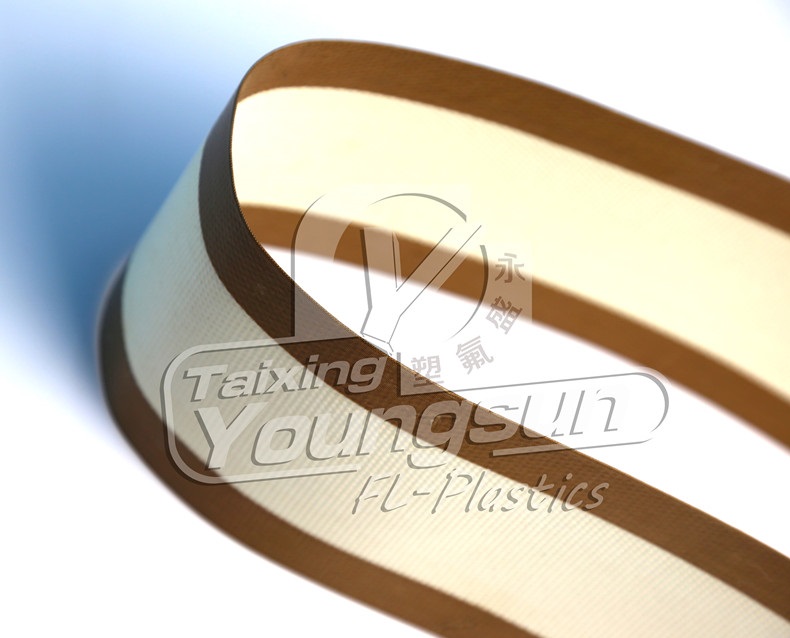 Waarom gebruik Teflon Coated Cloth voor release belting?
Deze teflon gecoate riem wordt in ovens gehard, zodat deze stof in staat is om warmte te weerstaan ​​en superoppervlak heeft, om te kunnen werken als vrijlating of transportband.
ESONE PTFE-gecoate doek is de Non Stick-oplossing voor diverse vloeren, omdat het het uitstekende vrijgegeven oppervlak en een langere levensduur biedt dan alle vergelijkbare producten op de markt en het is het belangrijkste onderdeel van de prestatie van het productieproces en de kwaliteit Van het tapijt, het hout of de vloer.
Bezit van Teflon Coated Cloths
★ Gemakkelijke vrijgave en Non stick oppervlak
Teflon coated Cloths hebben een hoge kwaliteit Teflon coating, die speciaal is geformuleerd om te voldoen aan de vereisten van de houtbewerking en laminering.
★ Lage verlenging en hoge treksterkte
Teflon hittebestendige doek heeft de hoogste dimensionale stabiliteit en grote treksterkte, waardoor de levensduur van de riemen wordt verhoogd en de productiekosten voor houtbewerkers verminderen.
Toepassingen van non stick PTFE coated cloth
★ rubber en kunststof drogen, harden en vulkaniseren
ESONE PTFE-beklede stoffen zijn van cruciaal belang in deze applicatie, die hoge harden temperaturen van verschillende rubberen en kunststoffen moet weerstaan, en heeft een uitstekend non-stick oppervlak om het geharde materiaal vrij te geven, heeft ook een hoge trek om de druk in het bindings- of lamineringsproces te dragen.
★ Lamineren van hout afwerkingen
ESONE PTFE-gecoate glasvezelstof wordt gebruikt voor het lamineren van decoratiefilms voor houtproducten.
Met een makkelijke afgifte, hittebestendig, laat een zeer glad oppervlak na lamineren, dimensionale stabiliteit en chemische bestendigheid, is PTFE-bekleed glasvezellap de uitstekende oplossing voor deze laminering.
★ Harden van panelen en harsafwerkingen
Meerdere lagen vellen, multiplex of massief hout worden samen gelijmd en zullen sterke lijm gebruiken om een ​​sterke, duurzame en betrouwbare constructie te realiseren. ESONE hittebestendig, hoge mechanische en non-stick Teflon beklede doek Kan gebruikt worden als ontladingsplaat of transportband voor deze industrie.
Product Categorie : PTFE Coated Glass Fabric > PTFE Heavy Belt Series